I found this challenge as an I Spy Goodreads group, but I signed up through the moderator's blog too, Faith Hope Cherry Tea-I Spy Challenge 2019 (sign up here). There's a list of 50 things to look for in a book, its theme/genre, cover description etc. Since I only read cozy mysteries, the numbers you find missing below are items I knew I'd never read or as in another item, getting a book from a Little Library. I'm pretty sure in my area there aren't any of those, just as there aren't coffee shops with books for sale in them. As I go through the list, I might even end up deleting more of them. I just found out the buddy read is done through the Goodreads group, so we'll see how that one goes.
The cool thing about this challenge is that it started December 1, 2018, so I already had a decent amount of books I could add, as you'll see below in my list. I'll include covers here too.
Start date: December 1, 2018
End date: November 30, 2018
My 2019 I Spy List:
2019 I SPY BOOK HUNT
1- Winter cover  
—Purrfect Slaying—Louise Lynn; also
 Snowy Misery–Wendy Meadows
2- Christmas  
 'Twas the Knife Before Christmas–Jacqueline Frost; also
 Christmas Carol Murder–Leslie Meier;
 Eggs on Ice–Laura Childs
3- Travel
 (to England) Gin and Daggers–Jessica Fletcher/Donald Bain
6- Purple cover
 Glitter Bomb–Laura Childs and Terrie Farley Moran (back of the book is completely purple); also
 Sifting Through Clues–Daryl Wood Gerber
7- Evergreens on cover  
 Jeopardy in January–Camilla Chafer
(Yes there are evergreens, two by the house shown out the window)

 Trouble on the Books–Essie Lang
8- New to you author  
—A Spell of Murder—Clea Simon
9- 1st of series  
—Deadly News—Jody Holford
10- Destination
 Gin & Daggers–Jessica Fletcher/Donald Bain (England)
11- Fav genre (cozy mystery)  
—Mardi Gras Murder—Ellen Byron
12- Buddy read ( I may or may not get to do this one)
14- Valentine read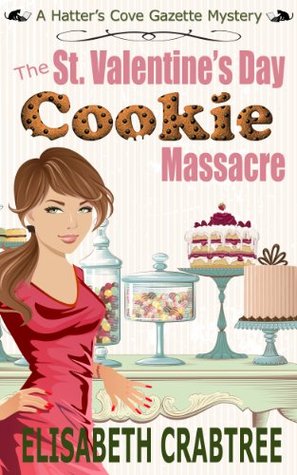 The St. Valentine's Day Cookie Massacre–Elisabeth Crabtree
15- Thrift store find
16- Book club read  
 A Christmas Peril–J.A. Hennrikus;
 Deal Gone Dead–Carolyn Ridder Aspenson
17- St Patrick's Day
 A Ghost of Glaze–Melissa Monroe
18- Fav author  
 Batter Off Dead–Maymee Bell
19- Colouring options
21- Library book sale
24- Freebie  
—A Salty Taste of Murder—Christine Zane Thomas
25- Bouquet on cover
 Death and Daisies–Amanda Flower
26- Letter on cover
27- New release  
—A Choice Cocktail of Death—Christine Zane Thomas
28- New to you country
 This Spells Trouble–Stacey Alabaster (Australia–I've never read a book set there)
29- Bicycle on cover
30- Palm tree on cover
31- Seashore on cover
 Live and Let Chai–Bree Baker;
 A Killer Plot–Ellery Adams
32- Snow on cover
 A Midwinter's Tail–Bethany Blake
and
 Iced Under–Barbara Ross
33- Name of month
34- Number in title
35- One word title
36- Pumpkin on cover
37- Bookshop topic   

–Murder by the Book—Lauren Elliott;
—Plotting for Murder–Tamra Baumann
38- Library topic  
 Past Due for Murder–Victoria Gilbert;
 Lending a Paw–Laurie Cass
39- Mittens on cover
 (they're blue) A Pattern for Murder–Ann Yost
40- Recipes in book  
 Wine and Punishment–Sarah Fox
41- Stars on cover
42- Tea mentioned
 No Good Tea Goes Unpunished–Bree Baker
45- Where you'd love to live
 Marvels, Mocha and Murder–Christine Zane Thomas
46- Author's initials match yours
47- Mystery   
Purls & Poison—Anne Canadeo
50- Free choice . . .  
 Apple Die—Chelsea Thomas